BEWARE OF FRAUD
Unfortunately there are those who try to take advantage of a tough housing situation by defrauding housing applicants. It can be difficult to recognize a fraud, especially if it is the first time you are looking for housing on your own.
BoPoolen is constantly working to prevent scammers from using our website by examining all ads for housing available to check that there is a connection between the landlord and address. It is not as easy for us to prevent a scammer from contacting you if you have posted an ad for housing wanted though.
Get to know the warning signs by reading the lists below. If you get in contact with anyone suspicious – don't hesitate to contact us so that we can help you and warn others!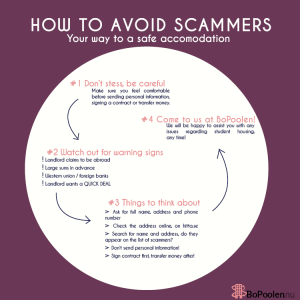 General advice on avoiding fraud
Scammers often claim to be abroad (for example Dubai, the UK, Ireland, Nigeria, Egypt, Turkey) and request deposits or rent in advance. They ask that payments are to be made through Western Union or to a foreign bank account. Anyone who actually rents an apartment in Sweden is almost unexceptionally on site and able to show the apartment and always has a Swedish bank account.
Always be very careful with sending personal information or your ID to anyone. Your personal information can be used to deceive others.
Warning signs
1. The landlord is abroad and not able to show the room/apartment.
2. Demands for large sums of deposit or advance payments.
3. Payment through Western Union or to a foreign bank account.
4. The landlord is pushing you to complete the deal quickly.
5. The landlord doesn't want to give you their real name and social security number.
6. The landlord wants you to make a payment to his/her lawyer in a different country.
Advice
1. Ask for the landlords full name, address and social security number. Name and phone number can easily be changed.
2. Look up the address of the apartment online to make sure it is real, for example on www.eniro.se
3. Google the name and email address the landlord is using. If you are dealing with a fraudster you might find warnings online. Also do an image search if you have been sent pictures.
4. Never send personal information or your ID to anyone suspicious. Your personal information can be used in other scams.
5. Never send any money before you have signed a lease agreement and are sure that you have access to the room/apartment. If you have to send money in advance, consider using PayPal or another safe alternative for money transfer.
6. It is always okay to ask to see the apartment before signing the contract
Dishonest landlords
Even if you are sure that the landlord and the room/apartment are real, we advise you to be careful and to make sure everything is done fairly. The vast majority of landlords are nice and reputable but there are exceptions. Always sign a proper lease agreement and make sure you save bank statements or request receipts for your payments. Please contact BoPoolen.nu if you are experiencing problems with your landlord. Read more about your rights and obligations as a tenant under Laws & regulations.
If you encounter a fraudster or if you have doubts about a landlord you are in contact with, send an email or call us and we will help you. It is important for us to know about fraudsters or dishonest landlords using our website. Your information will make it possible for us to stop them and to warn other students.